1-11 of 11
Annie's Homegrown Reviews
Annie's Classic Cheddar Macaroni & Cheese

506 reviews
Whenever we are faced with a picky toddler taste buds, we know we can default to Annie's and we will at least get a full meal into him. We like to add peas or edamame to at least get some greens included but Annie's provides a great delivery vehicle for that.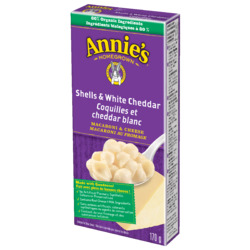 By far our favorite boxed Mac and cheese brand and flavor. My kids can make it themselves and I like that it is made with organic ingredients. Plus it tastes delicious.


This has been a go-to in our house for a while, as I have celiac disease and we keep our kitchen almost entirely gluten free. It's decent as it is, but it's even better with some real cheese melted into the sauce for some extra cheesiness.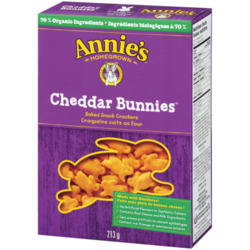 My kids love these cheese bunnies and I love that it doesn't have all of the worrisome ingredients. I've been giving this to my kids so long that they refuse to eat goldfish lol


Love how this pasta is organic and doesn't taste horrible. It is cheesy and delicious. It is definitely and easy go to meal or snack for the family. Highly recommended


Now I know that macaroni and cheese is a huge thing in North America, but I've only been living here for just over a year! So this was the FIRST macaroni and cheese I've ever made! Woahhhh!!!!! And it was sooooo damn good!!! I made the whole box, planning to only eat half!...


Anytime I purchase these my daughter is beyond excited. She says they are her favourite and loves them. I feel way better buying these than any of the other sugar filled chewy snacks on the shelves.


These are very tasty cheese crackers that we enjoy in our household. They have a very nice cheddar taste too them with some salt added on top of these crackers. These are probably one of the healthier cheese crackers I have found on the shelves that don't contain ingredients...


Well Annie, it is nice to know that my aunt who is allergic to gluten now has a nice sweet treat to enjoy. I, however, get a sour face soon after one bite when it feels like I just put sweetened beach sand in mouth.


My family has always been a kd fan but since trying these. They prefer these now. I love how they are organic and all natural. The kids just love the bunny shaped ones.


Annies Homegrown Mac and cheese is a very tasty product that I do recommend. The quality of macaroni is very good, it is not gummy as so many macaroni tends to be. The cheese has just the right flavor.