1-11 of 11
Annie's Homegrown Reviews
Annie's Classic Cheddar Macaroni & Cheese

499 reviews
Annie's Classic Cheddar Macaroni & Cheese has replaced any other mac and cheese out there on the market. This is because it tastes very good and it is a lot more healthy for you. The noodles are made of rice which is easier to digest. Your kids will barely know the difference...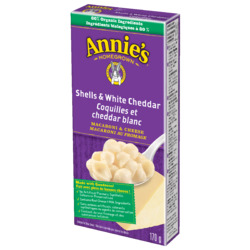 Only thing i do not like is the small shells but other than that it is amazing . I find it creamy and rich . Flavor is not overpowering and is not too salty compared to other boxed white cheddar mac and cheeses.


It's nice to have some tasty gluten free options that are quick and easy. This is always a hit in our home, especially with the husband and toddler. Would improve the taste if there was a little more of the cheese powder.


We love this product in our household! Quicker than traditional Mac and cheese yet healthier than other store bought alternatives. Greatly recommend this to other busy moms.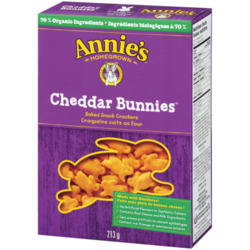 My kids love these and so do I! I really love that they aren't filled with a bunch of crap like goldfish and that they taste good. I stock up and keep in a big container. Love them!


It is way better than any other mac and cheese that has been instant in my household. It is creamy and delicious and does not even compare to any other mac and cheese in the market. Highly recommend this product.


Anytime I purchase these my daughter is beyond excited. She says they are her favourite and loves them. I feel way better buying these than any of the other sugar filled chewy snacks on the shelves.


These are very tasty cheese crackers that we enjoy in our household. They have a very nice cheddar taste too them with some salt added on top of these crackers. These are probably one of the healthier cheese crackers I have found on the shelves that don't contain ingredients...


Well Annie, it is nice to know that my aunt who is allergic to gluten now has a nice sweet treat to enjoy. I, however, get a sour face soon after one bite when it feels like I just put sweetened beach sand in mouth.


The cost is decent for organic and gluten free with the Annie's homegrown line of foods. The taste is just as good as the other brands, but I love that it's all organic.


Annies Homegrown Mac and cheese is a very tasty product that I do recommend. The quality of macaroni is very good, it is not gummy as so many macaroni tends to be. The cheese has just the right flavor.