1-8 of 8
BabyBjorn Reviews
Being a first time mom, trying to get back to your regular routine while taking care of your lovely newborn can be very challenging. There are days when you have to get things done around the house but it's difficult when your baby wants attention. The baby bjorn carrier was...


Babybjorn baby carrier mini

1 review
We love our BabyBjorn baby carrier mini in 3D mesh! Super lightweight and comfortable for both mommy and baby. The mesh allows maximum airflow which come in handy during our Texas summers. Baby stays comfortable and does not over heat. I definitely recommend!


BabyBjörn Safe Step

1 review
J'ai acheté ce petit banc pour ma fille, car son lit était trop haut pour qu'elle embarque par elle-même. Ce banc est très sécuritaire, car il y a du caoutchouc en dessous pour ne pas qu'il bouge et sur le dessus pour ne pas que les petits pieds glissent. Le seul petit...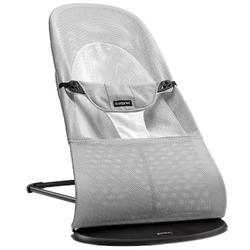 I was hesitant to buy this because of the price but caved in eventually. One of the best decisions ever!! Keeps baby entertained and lets me be hands free so I can get some work done around the house! Baby loves it too as when he kicks it bounces and keeps him busy.


Easy too use. Baby can be faced both front and back, so you can use for long time. Very comfortable with reinforced back support. Good for taller people too. Husband like it, he found the wrapping carriers a bit confusing and hard to use.


Potty Chair in White

2 reviews
This is a very nice potty chair. Sleek design and it doesn't have all the annoying sounds and music. I'm so glad I purchased this because it worked great! We had no issues with containing my son's pee and he never peed over the little guard on the front. It was super easy for...


I absolutely love it made my life so much easier


It does EXACTLY what it says .. Makes your hair so smooth and so silky ! I loved it and will be buying it again for sure!