1-11 of 11
Cavendish Farms Reviews
Take your patty and nuke it 30 seconds, or defrost them. Add to HOT oil fry 1 minute a side, paper towel off and dip in your fav sauce...Dave Eisenman


Cavendish is by far the best when it comes to frozen/oven fries. The flavour is great, and they always come out of the oven crispy and it soggy like other brands.


Cavendish Crinkle Cut Fries

8 reviews
Everyone in my home enjoy eating those fries . I baked them in stove the come out so crispy and we enjoy eating during barbecue. Its great appetizers to served to guest with dips.Its very affordable price to buy too. I would highly recommend others and my friends to buy too.


Cavendish Farms Straight Cut Fries

14 reviews
I've been eating this same shit for a year every day because the closest restaurant to my school only serves these shits. They are so soggy and they're most definitely not made out of potato's. They're soggier than the subway sweet onion teriyaki chicken sandwich I've...


Cavendish Farms Battered Onion Rings

11 reviews
Super crispy and well coated. Easy weeknight side dish. Better than takeout. Easy to bake and huge crowd pleaser. Large quantity for the price, we buy often


Cavendish Farms Garlic & Rosemary Wedges

11 reviews
I'm a huge fan of potato wedges, especially when they are the CAVENDISH FARMS GARLIC & ROSEMARY WEDGES. They are so full of flavor and bake up nice and crispy on the outside and still nice and soft on the inside. I love the smell of these wedges cooking! They are also sold in...


I love these fries however I think they should be cut a bit bigger. They are like micro shoe string haha I love the flavour and they are a great side to any supper dish


Cavendish Shoe Strings Fries

2 reviews
When deep fried until just slightly darker and then salted, these fries taste like they came from a very popular fast food chain that I won't mention for copyright reasons but what I can tell you is this: It was like eating out even though we were home, I definitely deserved a...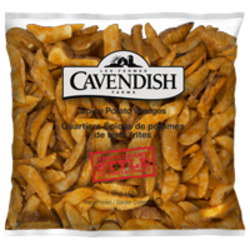 Cavendish Farms Spicy Potato Wedges

7 reviews
LOVE this product! Cavendish Farms products are a favorite in my house, for several obvious reasons! These spicy potato wedges are a personal favorite, offering a wonderful taste that is not too overwhelming but not too little! LOVE.


I love these, I'm someone who loves potato in any form and I really like these. They are great for breakfast but really I eat them at any time. They are crisp on the outside and soft on the inside and I love the added hint of onion. Sooooo yummy.


these are great for snacks my youngest son and I just love these I try to buy them when they go on sale and I stock up to have as a snack while watching t.v.