1-11 of 11
Cavendish Farms Reviews
J'aime beaucoup ces galette de patate! C'est rapide à cuire et c'est vraiment bon dans le four avec du fromage râpé dessus. De plus, ce n'est pas dispendieux du tout ! J'en achète régulièrement dans mon épicerie parce que toute la famille aime bien.


Cavendish is by far the best when it comes to frozen/oven fries. The flavour is great, and they always come out of the oven crispy and it soggy like other brands.


Cavendish Farms Straight Cut Fries

13 reviews
I'm normally not a big fry person and I definitely never deep fry at home (hello stinky closet!) but my son has been on a poutine kick lately and given how pricey takeout can be I've started making it at home. And these fries have been perfect for that. Crisp up nicely in the...


Cavendish Crinkle Cut Fries

6 reviews
Love having a bag of cavendish on hand for a busy night or times where I don't feel like cooking. I love the consistency in quality and taste - I always know what to expect.


Cavendish Farms Garlic & Rosemary Wedges

11 reviews
I'm a huge fan of potato wedges, especially when they are the CAVENDISH FARMS GARLIC & ROSEMARY WEDGES. They are so full of flavor and bake up nice and crispy on the outside and still nice and soft on the inside. I love the smell of these wedges cooking! They are also sold in...


Cavendish Farms Battered Onion Rings

10 reviews
I bought this big bag of rings at Giant Tiger for 5$. That was a great deal and the rings are really delicious. The onions are large, well coated and seasoned just right. I crisp them on parchment paper in the oven and they don't get greasy at all. I will buy these again.


I love these fries however I think they should be cut a bit bigger. They are like micro shoe string haha I love the flavour and they are a great side to any supper dish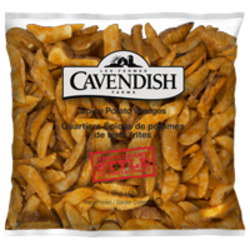 Cavendish Farms Spicy Potato Wedges

7 reviews
LOVE this product! Cavendish Farms products are a favorite in my house, for several obvious reasons! These spicy potato wedges are a personal favorite, offering a wonderful taste that is not too overwhelming but not too little! LOVE.


Cavendish Shoe Strings Fries

1 review
Great taste, great name. love these with a hamburger.


I love these, I'm someone who loves potato in any form and I really like these. They are great for breakfast but really I eat them at any time. They are crisp on the outside and soft on the inside and I love the added hint of onion. Sooooo yummy.


these are great for snacks my youngest son and I just love these I try to buy them when they go on sale and I stock up to have as a snack while watching t.v.