Cetaphil is a line of dermatologist recommended skin cleansers and moisturizers specially formulated for dry sensitive skin. ChickAdvisor members enjoy the
Cetaphil Daily Facial Cleanser
and the
Daily Facial Moisturizer
.
Facebook | Twitter | cetaphil.com
1-7 of 7
Cetaphil Reviews
Cetaphil Baby Wash and Shampoo

96 reviews
Mon fils et ma fille ont la peau fragile/sensible et ce produit est parfait pour leur petite peau. Fragrance légère car naturelle mais au combien plaisante. De plus le produit est recommandé pour désinfecter les piercings entre autre oreilles comme sur un enfant.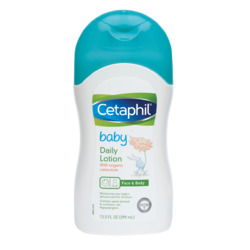 Cetaphil Baby Daily Lotion

49 reviews
I got a sample of this lotion, and I really liked that it absorbs quick and the smell is very settle and pleasant. After my sample bottle was used up, I went to my local pharmacy and bought the full size bottle. The texture of the lotion feels great and not oily at all.


Cetaphil Baby Moisturizing Oil

23 reviews
I started using on my daughter when she was having bad cradle cap.The wash is gentle and helps keeps my baby's skin soft and rash free. The bottle is a 'squeeze bottle' (like the ones sometimes used for ketchup). When I squeeze, no matter how soft I try, too much product...


Cetaphil is a good baby wash, however i haven't notice any difference in effectiveness from other brands, plus i don't like the package because when you squeeze it it gives too much product for a single use.


Cetaphil moisturizing cream

5 reviews
Cetaphil is a great product for sensitive skin even in the harsh winter climate! My skin often reacts to scented products but Cetaphil keeps my skin moisturized, soft and free from any sensitivity reactions.


Having dry skin sucks. It messes with everything you do on a daily basis. This cream however, make it soo much better. It relieves the itchiness and makes my skin feel smooth. It keeps skin hydrated without feeling greasy.


Cetaphil Nourishing Body Wash

2 reviews
its a blessing for the ppl with dry skin it is so creamy in texture ad is so hydrating . and the best part is that cetaphil has a 3$cad off coupons for this , most of the time.