Cetaphil is a line of dermatologist recommended skin cleansers and moisturizers specially formulated for dry sensitive skin. ChickAdvisor members enjoy the
Cetaphil Daily Facial Cleanser
and the
Daily Facial Moisturizer
.
Facebook | Twitter | cetaphil.com
1-7 of 7
Cetaphil Reviews
Cetaphil Baby Wash and Shampoo

105 reviews
This is very gental on my babys skin but leaves him soft and smelling nice. It doesn't irriate him or dry out his skin. I have not had any issues with it getting in his eyes or causing any rashes even with the sent. When I take him swimming we both use this product and it even...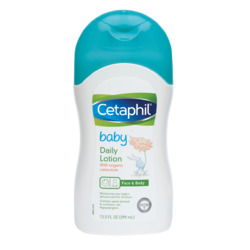 Cetaphil Baby Daily Lotion

55 reviews
If this lotion is thicker it will stay longer so that babies get good moisture and good skin .like the flavors of this lotion.it is an expensive lotion


Cetaphil Baby Moisturizing Oil

26 reviews
J'aime beaucoup cette crème car elle est parfaite pour la peau de bébé. Ma fille a une peau très sensible cependant avec cette crème elle ne fait aucune réaction. De plus , la crème ne laisse pas la peau grasse après application car elle pénètre bien la peau de...


Cetaphil baby nettoyant ultra-hydratant

12 reviews
Étant maman de deux amours, je veux le meilleur pour eux. Avec leurs sensibilité de réaction du au parfum des nettoyants. Cetaphil bébé est le seul qui ne donne aucune réaction de rougeur à mes enfants l ! En plus sa sens tellement bon. Je recommande sans aucun doute


Cetaphil

7 reviews
I have sensitive skin so I went looking for something fragrance free but ended up finding none. I instead decided to go for a brand marketed for babies because they tend to have more sensitive skin too. While this does have fragrance, I love the scent. It's like a warm vanilla...


I started using this product to help with the itching of my exzima. And i swear by it now. Leaves a nice barrier on your skin so its not dry and itchy i love it thank you.


Cetaphil Nourishing Body Wash

2 reviews
its a blessing for the ppl with dry skin it is so creamy in texture ad is so hydrating . and the best part is that cetaphil has a 3$cad off coupons for this , most of the time.