Cetaphil is a line of dermatologist recommended skin cleansers and moisturizers specially formulated for dry sensitive skin. ChickAdvisor members enjoy the
Cetaphil Daily Facial Cleanser
and the
Daily Facial Moisturizer
.
Facebook | Twitter | cetaphil.com
1-7 of 7
Cetaphil Reviews
Cetaphil Baby Wash and Shampoo

150 reviews
Very gentle for baby. No irritation at all. Baby shampoo and wash both together. And smells very good. Good quality product, i think worth it. I really like it.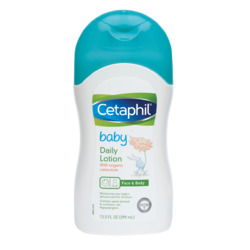 Cetaphil Baby Daily Lotion

74 reviews
I love the scent of this lotion but I'm also surprised that it has a scent given that Cetaphil is a sensitive skin brand. It applies easily and makes my baby's skin feel silky smooth.


Cetaphil Baby Moisturizing Oil

31 reviews
I used this product on my daughter after her night time bath routine. The oil is slightly thicker than other brands of baby oil. However, the product smells great and does an amazing job in keeping skin hydrated. Definitely going to be my new go to after bath oil.


Cetaphil eye gel

1 review
I recently tried this eye gel. It's a new product from cetaphil. I absolutely love it. My eyes are super sensitive a lot of eye creams either burn or create almost a film over my eyes. Which is very unpleasant. The cetaphil eye gel was perfect not greasy or thick. Absorbed...


Cetaphil

10 reviews
Well first of all I have the most difficult combination skin, that's in parts oily and in others dry. This worked wonders when I used it before my make up and after. Texture is a bit slimy if I'm honest but that's definitely something that can be overshadowed by how well it...


I started using this product to help with the itching of my exzima. And i swear by it now. Leaves a nice barrier on your skin so its not dry and itchy i love it thank you.


Cetaphil Nourishing Body Wash

6 reviews
I love this body wash it smells nice and doesn't irritate and dry out my skin. I have sensitive skin and really enjoy this product. It washes off easily.