Cetaphil is a line of dermatologist recommended skin cleansers and moisturizers specially formulated for dry sensitive skin. ChickAdvisor members enjoy the
Cetaphil Daily Facial Cleanser
and the
Daily Facial Moisturizer
.
Facebook | Twitter | cetaphil.com
1-8 of 8
Cetaphil Reviews
Cetaphil Baby Wash and Shampoo

109 reviews
This brand is perfect. Smell is not too strong but sweet. And it is delicate on my son's eczema prone skin. Always calms episodes down. Problem is a bit pricey!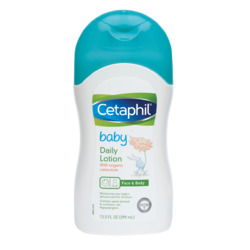 Cetaphil Baby Daily Lotion

58 reviews
The smell is absolutely amazing. I use it on my babies and myself every day. Works wonders on dry skin a leaves you smelling fresh for most of the day.


Cetaphil Baby Moisturizing Oil

27 reviews
The texture is not oily at all. More like a runny lotion, which I love! Super gentle on my son's eczema prone skin. I just have a slight problem with the price, too expensive.


Cetaphil baby nettoyant ultra-hydratant

12 reviews
Étant maman de deux amours, je veux le meilleur pour eux. Avec leurs sensibilité de réaction du au parfum des nettoyants. Cetaphil bébé est le seul qui ne donne aucune réaction de rougeur à mes enfants l ! En plus sa sens tellement bon. Je recommande sans aucun doute


Cetaphil eye gel

1 review
I recently tried this eye gel. It's a new product from cetaphil. I absolutely love it. My eyes are super sensitive a lot of eye creams either burn or create almost a film over my eyes. Which is very unpleasant. The cetaphil eye gel was perfect not greasy or thick. Absorbed...


Cetaphil

7 reviews
I have sensitive skin so I went looking for something fragrance free but ended up finding none. I instead decided to go for a brand marketed for babies because they tend to have more sensitive skin too. While this does have fragrance, I love the scent. It's like a warm vanilla...


I started using this product to help with the itching of my exzima. And i swear by it now. Leaves a nice barrier on your skin so its not dry and itchy i love it thank you.


Cetaphil Nourishing Body Wash

3 reviews
I would recommend it for people with or without skin issues. It doesn't dry. out your skin, and smells nice. I keep a bottle by the sink and use it for washing my hands, also.