Cetaphil is a line of dermatologist recommended skin cleansers and moisturizers specially formulated for dry sensitive skin. ChickAdvisor members enjoy the
Cetaphil Daily Facial Cleanser
and the
Daily Facial Moisturizer
.
Facebook | Twitter | cetaphil.com
1-7 of 7
Cetaphil Reviews
Cetaphil Baby Wash and Shampoo

178 reviews
This is our absolute favourite wash and shampoo for our little guy. Smells heavenly and last all day without being overwhelming. This wash lathers nicely without being too Soapy and leaves our babys skin smooth and supple and hydrated.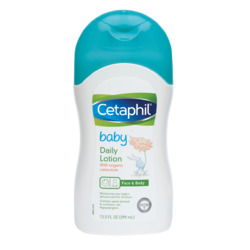 Cetaphil Baby Daily Lotion

120 reviews
My son loves this product, it works really good for his eczema and he also has sensitive skin and it has never caused a rash! It also makes his skin so smooth!


Cetaphil baby eczema calming lotion

11 reviews
Very nice lotions. Helps to keep your baby's skin mosturised. It gives nourishment to your baby's sking internally. Highly recommended . Skin happy, baby happy !!


Cetaphil Baby Moisturizing Oil

35 reviews
I use this oil every day for my baby after a bath. I use it to give my baby a massage and it works really well. My baby's skin is moisturized and stays soft all day. Definitely recommend!


Fragrance-free and the only face cream that worked on my child's eczema. Mind, he had mild eczema on his face, but it was recurring. This cream really helped to soothe his dry skin and itchiness. A tiny amount was needed to moisturize, which made the bottle last a long time.


I love this product so much. I have really dry skin and I'm so please with this product on how well it does my dry skin. After using this product, my skin feels so soft and rejuvenated. Such a great product to use.


Cetaphil Nourishing Body Wash

12 reviews
If you are one of those who like odourless skincare this is definitely the one. I received a sample of this and immediately fallen for it. I used it in winter and it really worked on my dry skin. No more dry skin patches. Definitely a gogo.