Dove is a personal care brand for men and women that was launched by Unilever in 1955. Their product lineup includes antiperspirants, body washes, beauty bars, lotions, hair care, and facial products. In 2006, the brand started the Dove Self-Esteem Fund in support of educating young girls about natural and real beauty. Some of the most-reviewed products on ChickAdvisor include Dove's
Deep Moisture Nourishing Body Wash
,
Ultimate Supreme Visibly Smooth Anti-Perspirant
,
Ultimate Clear Anti-Perspirant
and the
Original Beauty Cream Bar
.
1-13 of 13
Dove Reviews
Dove Baby Sensitive Skin Bar

241 reviews
I have used other body washes on my little one and have always found her skin is either to dry after a wash or feels sort of greasy after. This bar of soap leaves her skin feeling soft and great. I will continue to buy this for her.


Dove foaming hand soap

23 reviews
I love this foaming hand wash! I purchased the Warm Vanilla & Sugar Cane scented and it smells even better than it sounds! The foam is so light and airy and makes me skin so much softer after each use. Its so delicate and gentle, making it absolutely perfect for every skin type...


☔️ After a long time using sanitizer, my hands are finally recovered using this amazing Dove Foaming Lavender & Yogurt Hand Wash. It only takes a couple of pumps to get a good amount of lather. It gently cleans my hands and does not dry them out although I use it several...


✅ I received a free sample of Dove Coconut Water & Almond Milk Foaming Hand Wash. ✅Thank you for sending and testing and giving our honest review on this. ✅The day I used this hand soap I have to say, I LOVED IT. ✅the yummy foam smells great and feels so coco...


I love this because of the smell it's amazing and also because the way it leaves my skin feeling after I use it I would recommend this to anyone it's amazing


Like the foaming hand wash, the texture is easy on my hands, don't feel dry after use. The lemon and goji berry scent is smells so nice, so refreshing. Price is affordable, perfect buy.


Dove Rich Moisture Baby Lotion

11 reviews
Dove Baby Rich Moisture Lotion I purchased this dove baby lotion for my son , dove is always a promising brand , as per my 1st use it's so soft & not sticky & affordable, love the mild fragrance.


Dove Facial Cleanser

9 reviews
It cleans out your pores cleans your skin without leaving it dry It has a nice scent and leaves your face feeling smooth and moistured I would recommend this product and purchase it again


I bought the sugar cane and warm vanilla scent. Mistake! I have a good nose and yes I like scent but not over powering horrible ones. This did not smell like sugar cane nor vanilla, instead it had a very strong smell. I kept thinking what is the smell? It smelled like laundry...


Dove Eye Cream

2 reviews
I've tried dozens of eye creams. As I get older it is the most important facial feature. This product so far seems to be working very well and you only need the smallest amount. Try and you'll see.


Yummy milk chocolate filled with caramel. Love Dove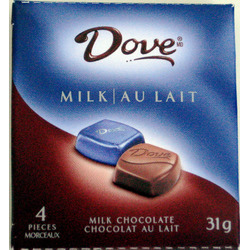 Dove Milk Chocolate

27 reviews
My husband got me a bad of these dove chocolates during my last period and I was a happy camper lol. This chocolate is pretty delicious. I think they would be good enough to satisfy anyone's monthly headache lol.


Dove Dark Chocolate

13 reviews
I love these chocolates. They are so good, I've never heard anyone say they don't like these. Even though its dark chocolate it still tastes good which is great.