French's is an American manufacturer of prepared mustard condiment. Created by Robert Timothy French, French's "Cream Salad Brand" mustard debuted to the world at the 1904 St. Louis World's Fair. Today, French's offers French's Yellow Mustard, French's Honey Mustard, French's Spicy Brown Mustard, French's Honey Dijon Mustard, and more.
1-6 of 6
French's Reviews
French's Mustard

75 reviews
I love mustard and I can't get enough of it people say I'm weird but i seriously love this stuff. If I could grow mustard in my backyard I would. If only tho


French's Crispy Onions

9 reviews
The crunch is what gets me with the French's Crispy Onions. I love to eat them on salad, I add them to almost any casserole and I also cook them with my potatoes, peppers and garlic on the BBQ to add flavour. They are a great addition to almost anything. They are a bit greasy...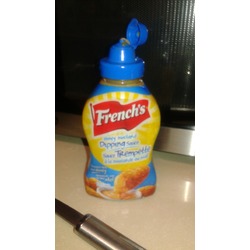 French's Honey Mustard 355 mi

5 reviews
Love this mustard! Never would I had thought about honey in mustard, the combination is somewhat spicy (good) and sweet (but not to sweet). I paired it with the usual foods (burgers, fries, perogies) and with ketchup and relish. I would totally buy this again.


frenchs classic yellow sweet mustard

2 reviews
I bought this product last week to try it out our grandson son liked it so did the rest of my family it has that sweet taste to it that tasted great on our sandwiches i would recommend this product to anyone


French's Spicy Mustard

6 reviews
I used this to make meatloaf and it turned out rather well. had a nice kick of heat that my kids (ages 7 & 8) didn't find it overly spicy and enjoyed it with a side of green beans.


French's salad cravings

2 reviews
This tastes really good. I use it on everything, salads, pasta, burgers, sandwiches, I even eat it straight from the pack as a snack. They have some good flavors, although my favorite is the bacon flavored. On the down side...it only comes (as far as I've seen) in one format...