1-14 of 14
Luvs Reviews
Luvs Baby Diapers

98 reviews
We have used these diapers with all of our children, and they have been effective with managing leaks and blow-outs. They are a good diaper for the price and have worked well for us.


Luvs Diapers Big Pack Size 4

41 reviews
These are my favorite diaper brand for my daughter. I've used other higher priced brands and in turn would leak. I gave these a try and never had any issues again.


All 3 of my kids use these diapers! They have never had a reaction to them or even leaked through them! Plus love the design! Best diapers ever!!!!!!!


I really like the Luvs brand. They are cheap and still great material. My baby's bottom loves them. They also come with cute little designs, although it would be nice to have a few different designs included in each box.


I used Luv's on my oldest child years ago and they are still just as great as they were 15 years ago. They hold up well overnight and are so affordable. So glad I stuck with this brand.


These are the best diapers around. I would never waste my money on the more expensive diapers. I've never had these leak ever. If you haven't ever tried them for your little one, you definitely should.


I was so glad when I finally came to my senses and tried LUVS for the first time. Now, 8 years and two kids later its the one I recommend to new moms every time.


These are the only diapers my daughter can use. She breaks it from everything else. They also smell so good! Love the smell! They hold very well as well


Luvs #6 Diapers, 40 Per Pack

4 reviews
We have purchased luvs for a while now and haven't had any problems. Now that my daughter is getting up in the bigger sizes the fit isn't right anymore and we've found that she often has leaks and blowouts. This product has been great but it looks like we will have to find...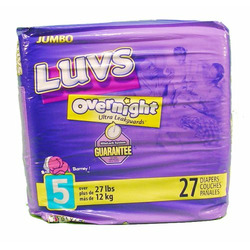 We swapped to these from Parents Choice and they have been outstanding! My son hasn't had any leaks or blow outs and they don't leave a nasty rash on him. They are a great value without the hefty price tag. I love the designs on them also.


These diapers have worked very well with all my babies. Even better made now then a few years ago in my opinion. They are very absorbent and also very affordable. I would definitely recommend this product!


I was a very loyal brand customer, when it came to diapers. I thought only the most expensive diapers were the best. We had been at a family gathering an I totally forgot the diaper bag. Ugh the biggest mom fail by far! But thankfully a family member had a baby in diapers. It...


with everyone buying up our usual brand of diapers we had to get Luvs. I am not impressed at all. Every morning my son wakes up completely wet from his pee soaking through the diaper.


Luvs Mega Pack Size 1

2 reviews
I bought this brand for my oldest daughter, sizes bigger than 3 and the were great. For my new baby I bought size and I was so disappointed that we returned the unopened box. I know it says guaranteed but we didn't have the receipt. Number 1 and 2 came out of the diaper every...