Facebook | Twitter | nutrience.ca
1-6 of 6
Nutrience Reviews
Nutrience Kitten canned food

2 reviews
I foster kittens and have tried all sorts of lower end and higher end foods but they love this one. I was buying the small cans. But I got the big cans and it lasts longer. Good food smells good too smell this compared ro something lower end like whiskas. This is yummy.


Nutrience Kitten Kibble

1 review
I foster kittens and it's important that kittens get great quality food in this stage of life. The kibble is a little large so best for kittens three months of age and older. My little ones come running when they hear the kibble hit the bowl. They absolutely love it.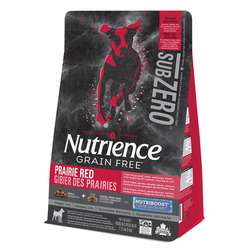 Nutrience Grain Free SubZero Dog Food

352 reviews
I have 3 dogs. All at different stages of life. This food covers it all. Even my sensitive stomach boy. They eat less of this food compared to the brand, I fed before. It's as close to raw you can get. My only complaint is the price tag.


Nutrience Grain Free SubZero Cat Food

226 reviews
I normally buy a different brand of cat food but I decided to try this one out for my cats hoping my older cats stomach would digest it better then the other one and so far it seems too make her full and not sick.So thumbs up.


My great Dane needs good quality for large breeds. To help him stay full and have energy. This is pricy but I find that he eats less than the cheap brands because he stays fuller longer. I still mix this with puppy food. He loves the taste and the kibbles are a perfect size.


I wouldn't recommend this product to anyone who has picky cats, I personally bought this product & was disappointed my cats wouldn't eat it. I normally purchase a more expensive product, but decided to try this with my cats to save a little extra. Now i'm on my way back to the...