1-13 of 13
OFF! Reviews
Off! Deep Woods 8 Hour Protection Spray

34 reviews
I tried this product a few summers ago when we were at our cottage. The mosquito's were just horrid. Off deep woods worked amazingly, where other repellents were not. I buy this product every summer now.


Thank goodness for Off ! If this product wasnt around Id never leave my house at night. We live on a lake and every evening we sit outside and enjoy the fresh air. Off Power Pad Mosquito repellent lamp is my lifesaver !! Easy to use keeps them pesky mosquitoes far away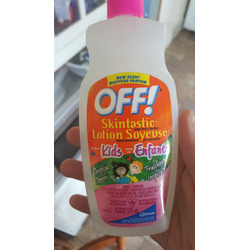 Off! for Kids

2 reviews
I bought this because I wanted to test it out. With regular OFF spray the smell is just too much for me. But this smell wasn't that bad. And it worked. Mosquitoes have been bad this year and this helped keep bites to a minimum.


I used to get mosquito bites all over my body, and found it highly annoying. I decided to purchase this product and immediately saw a difference! Goodbye itchy scratching, hello smooth skin! I'm super satisfied with this product and it's quality, affordability, portability, etc...


OFF! Familycare Insect Repellent IV

5 reviews
Living in the south we basically have to have some kind of bug repellent on demand. I picked up this kind a few months ago, with it being family usage, I thought it would work perfect with the three younger kids, husband and myself. Don't get me wrong, it worked, when we kept...


OFF! Clip-On Mosquito Repellent

7 reviews
The labeling is dreadful unless you have 20/20 vision - white on orange background, font size 8 or less. I used it yesterday while gardening, for about 2 hrs. The mosquitoes devoured my ankles and neck/ears/face. I shifted the clip on from the waist band of my shorts to the...


OFF! Family Care Insect Repellent

29 reviews
I would buy this again. The product is a bit on the expensive side but is easy to apply and works well. I use it on ny kids primarily to protect against mosquitos and they do not get bitten when its applied.


OFF!® Deep Woods® Pump Spray

2 reviews
It works ok. Rubs off and is very smelly.


OFF! Deep Woods

13 reviews
The first time I used this product was when I went camping and its formula is way too strong, as soon as I applied it I felt something in my throat and immediately after I go very sick, nausea, stomachache and headache. I don't know why did I have that reaction to it but it last...


OFF!Clip On Insect Repellent

2 reviews
I think this is a waste of money ,it doesn't keep any bugs away, took it camping with us and we got eaten alive disappointing for a product that isn't cheap


OFF! Yard & Deck Spray

1 review
If you are planning to have a back yard party, BBQ, going on a camping trip, or you just want to lie around your back yard in the evening, then Off Yard and Deck Spray is what you need to keep those little bighting buggers away. We had a Buck & Doe party at a friend's house a...


OFF! Active Insect Repellent

3 reviews
OFF just didn't work for me. This product was supposed to repells bugs away from me and yet I seemed to have attracted them even more after using this spray. Being on the water, I need something that works hard against mosquitoes and black flies. I will not buy this product in...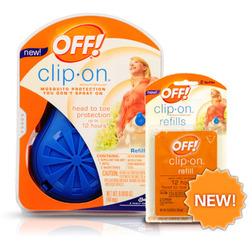 OFF Clip-ons

12 reviews
love them, just clip them in your waistband and your good all night