1-7 of 7
Oikos Reviews
Oikos Greek Yogurt

300 reviews
everything about this is perfect its the best yogurt, good consistency, flavour, texture, its so yummy an i love the fruit on the bottom. only kind of yogurt i will buy !


Oikos Greek Yogurt Lime

21 reviews
A co worker gave me one of her extra Oikos Key Lime greek yogurt at break one day. One taste and I was in love. I love the thicker texture of greek yogurt compared to regular yogurt and like that it has more protein. I never tasted Key Lime before but have always like lemon lime...


Oikos Greek Yogurt Coconut

15 reviews
I love this yogurt as a healthy snack, breakfast or dessert it is low fat yet still has a creamy texture. The coconut flavour tastes great and is my favourite, it goes really well with fruit or cereal


Oikos Plain Greek Yogurt

15 reviews
Mixed with thawed frozen fruit (mango is my fave) I love this as a quick but filling breakfast. Easy to take to work and eat at my desk. And it keeps me full until lunch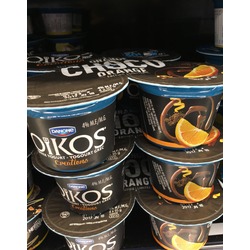 Oikos did a fantastic job on this flavour! It tastes like a real orange with chocolate - nothing artificial tasting about it. While they do still pack some sugar, they are high in protein and definitely are a great option for a treat or mid-afternoon pick me up!


Oikos Greek Yogurt Pineapple

9 reviews
Picked this flavour of greek yogurt up as my SO loves pineapple everything! There was something that tasted odd.. I just did not enjoy the flavour of this greek yogurt. Texture was good, as usual with Oikos yogurts. Will not be repurchasing.


I always thought that Greek yogurt would taste awful . But then a friend let me sample some of hers. I was surprised at the smoothness of it and the fruit flavors are wonderful