1-14 of 14
Pedigree Reviews
Pedigree DentaStix Dog Treats

152 reviews
My dog absolutely loves these I swear he can smell them before I even get in the door with them,as soon as I'm in the door his head is in the bag looking for his treat he then sits with his treat upright between his front paws and nobody is allowed near it, if my dog could vote...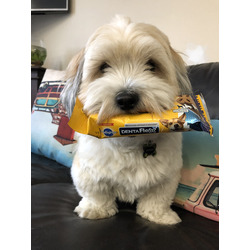 Pedigree Dentaflex

39 reviews
We bought these for our small dog. We've had to use the sharpest knife & scissors in our kitchen to split it 4 strips as she just couldn't chew into it. Don't get me wrong she loves it but it makes me wonder what's in it to make it that tough, and what's it doing to...


Pedigree denta stix medium

14 reviews
I really recommend to buy this product if you're a dog owner. My dogs love it and seems to really do clean they teeth. This is my dogs favorite treat.


pedigree marrow bones

10 reviews
I've used these with our dogs for many years and never had a dog that didn't like them. Nice to see some treats that never go out of fashion. My first dog 25+ years ago used to bury these in the garden. My current dogs both love these and will do anything to have one.


Pedigree choice cuts in sauce Food

5 reviews
My dog really likes this product she likes the gravy in the sauce to it she cries when I heated up a little because she wants it that much. I wish that there was a bit more me as it does seem to be a lot of sauce however my dog doesn't complain. I would definitely recommend this...


Pedigree denta stix small

5 reviews
My chihuahuas have been having some nasty breathe. So I started looking for a way to help them out. Came across theses and bought them. My dogs really liked them and so does mommy. No more butt breath as you would call it.


Pedigree Small Dog

6 reviews
I've tried several dry dog foods but the pedigree for small dogs is my chiweenie's choice. She turns up her nose at other brands. Her coat stays shiny her teeth are healthy. So she's happy dog.


Pedigree vitality dog food

4 reviews
We have a multi dog household and we have tried many different types of food but always go back to the pedigree vitality, as it is the only food all 8 of our dogs will eat.


Pedigree Breath buster cookies

4 reviews
these are very good at breath control and my dogs love them and they are a very good treat for your dogs and also they are cruncy enough to help with tarter on the dogs teeth and also they are very good like i said as breathe control for them and it is a product i would...


Pedigree Denta Stix Minis 169 gr

5 reviews
Mon chien a adoré ça manger cet os pour les dents. Depuis que je lui en ai donné il va devant l'armoire ou ils sont rangés et il fait des petits sons pour en avoir d'autres.


Pedigree Dentabites

3 reviews
These treats are good for dental hygiene the only problem I have with my pet and these snacks is that there is oily residue that gets stuck on his nose when he eats them. I don't know if its only him that gets that because of the way he eats but It makes a mess


Pedigree Marrobone

11 reviews
Our Husky Dog loves this great product we give him one of these and looks for more he'll eat the whole package at once if you keep giving them to him the good thing is these marrobones are great for his health


Pedigree Denta stix daily oral care

15 reviews
My 3 dogs love these they want it soon as they wake up in the am. They also help clean there teeth:) i would deff recommend this product sometimes my dogs try to get 2 a day lol. My dogs also have allergies and these do not bother them


My dogs are very picky eaters, I have tried 7 different foods and all were a no go for these bitches untill i brought home a bag of Vitalite and they loved it.