1-14 of 14
Pedigree Reviews
Pedigree DentaStix Dog Treats

216 reviews
Great product. Helps clean the dogs teeth. He seems to enjoy the flavour. I like that they don't have a strong smell like other teeth cleaning products I have bought. I give him one every 2 days and he devours it!


Pedigree denta stix medium

53 reviews
Give these to my dogs daily and they love it, it is effective at removing any built up tartar on the dogs teeth and it makes their breath smell nice. My dogs get excited when they see the treats and I recommend this product to all dog parents.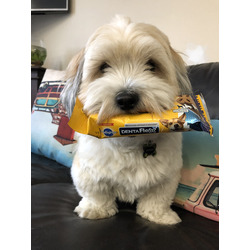 Pedigree Dentaflex

41 reviews
Everytime I go out shopping and come home my dog mia who is a border collie, looks in ever bag for her treat. Once i said well if im getting her a treat every time i shop just as well get her something healthy and then they fell in love. Thanks so much amazing product.


Pedigree Denta Stix Dog Treats Small

28 reviews
My dog loves these Denta Stix. Have tried her with other brands in the past but it has been hit and miss. These are her constant favourite, so while they are a bit more expensive they are the best ones for her.


Pedigree dentastix large

7 reviews
Highly recommended this product, not only was the pricing very fair but my dog adores it as well. I have replaced her current treats with dentistix and don't plan on changing it back any time soon


pedigree marrow bones

10 reviews
I've used these with our dogs for many years and never had a dog that didn't like them. Nice to see some treats that never go out of fashion. My first dog 25+ years ago used to bury these in the garden. My current dogs both love these and will do anything to have one.


Pedigree choice cuts in sauce Food

6 reviews
My dog loves this as she can be very fussy with her food and brands of food. She tucks right in when this goes in her bowl which i also like to see and a empty bowl


Pedigree Small Dog

6 reviews
I've tried several dry dog foods but the pedigree for small dogs is my chiweenie's choice. She turns up her nose at other brands. Her coat stays shiny her teeth are healthy. So she's happy dog.


Pedigree Breath buster cookies

6 reviews
These smell so good I almost want to try one, my dog loves them he was hesitant at first but now I have to hide the bag so he doesn't rip them apart but they don't help with bad breath just a nice treat


Pedigree vitality dog food

4 reviews
We have a multi dog household and we have tried many different types of food but always go back to the pedigree vitality, as it is the only food all 8 of our dogs will eat.


Pedigree Denta Stix Minis

5 reviews
Mon chien a adoré ça manger cet os pour les dents. Depuis que je lui en ai donné il va devant l'armoire ou ils sont rangés et il fait des petits sons pour en avoir d'autres.


Pedigree Dentabites

3 reviews
These treats are good for dental hygiene the only problem I have with my pet and these snacks is that there is oily residue that gets stuck on his nose when he eats them. I don't know if its only him that gets that because of the way he eats but It makes a mess


Pedigree Marrobone

13 reviews
Like most dogs, all 9 of mine love this treat. Fortunately for me, the only time they get them is when someone gives it to them. As someone with a nutritional background for domestic animals, I can tell you that this is a terrible treat. Heres the first few ingredients. Wheat...


It's dog food, I have two labs both eat 4 cups a day, and they don't seem to have any complaints about it I personally have not tasted it order to be able to review it properly, but my girls seem to like it.