1-5 of 5
Persil Reviews
Persil ProClean Power-Liquid Detergent

151 reviews
I love using Persil for doing laundry! It smells great, cleans well, and is super gentle on our clothes! I would say Persil is a more premium product in the laundry detergent department.


This detergent isn't for anyone with sensitivity to scents. This smell is SO strong. I thankfully only used it on my towels, but the smell was so strong and overpowering. I usually try and avoid perfumes, so this smell was way too intense for me. My clothes did turn out clean...


I found that it cleaned well but had a strong perfume smell and was not not a good mix for a person with skin issues my whole body was on fire and I broke out in hives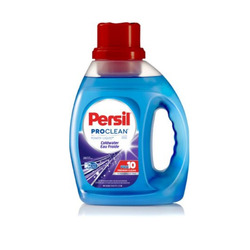 Persil ProClean Cold Water

24 reviews
I have been using it for 3 years and it is not only that my mother also started using it, so I used to clean the couch. I made it clean and it smelled nice. I love it.


I used to use liquid detergents, until someone mentioned "why pay for water to be added to your detergent?". My sister recommended Persil Power Pearls, and I have never turned back. It has a soft scent, I only need 1-2 Tablespoons per load of laundry, and it lasts for a long...