1-14 of 14
Scrubbing Bubbles Reviews
Scrubbing Bubbles Mega Shower Foamer

1229 reviews
The only product that works remove the soap scum. Work fast even on the hard soap scum . Affordable price Will buy it again and recommend to friend and family


Scrubbing Bubbles Bathroom Cleaner

477 reviews
I am always looking for ways to complete a task more efficiently and this product does just that! I can spray the scrubbing bubbles, let it set and come back and finish by wiping away the cleaner. It really helps to eliminate the residue on the shower and bath. I use this...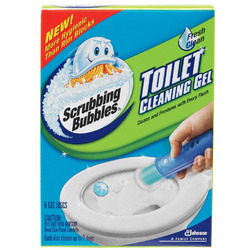 Scrubbing Bubbles Toilet Cleaning Gel Stamp

134 reviews
I have used this product for years! Literally you clean your toilet, stamp, and walk away! Its so nice to use a clean toilet all the time and it smells great too! I recently had to stop using it though because my two little kids are in the "I want to stick my hands in the...


Scrubbing bubbles makes cleaning the shower/bathtub so easy. My partner is a mason so comes home covered in cement, as soon as he is out of the shower I spray the bubbles, wait 5-10 minutes then spray it off. Looks food as new every time without me having to spend hours...


As if scrubbing bubbles didn't make cleaning a lot less of a chore already, now they have a power spray so you can just clean faster and easier.... I was able to refill my bottle and reuse it again... great idea


I use this product in my bathroom to clean my shower tiles and sink. I love how fresh it smells and how it works quickly to clean the dirt and soap off the surfaces. It wipes off easily and leaves everything looking and smelling clean.


I absolutely love this product! This spray keeps my toilet white and fresh looking. It dissolves dirt and grime in a matter of seconds. At such a great price it is a definite must have.


I really like the neck of the bottle, it makes it easy to pour right around the toilet rim, I really feel the toilet gets a really good clean. Some of fragrances of the toilet duck are really pleasant and not over powering. Your toilet will sparkle and shine


I purchased this because I HATE having to clean the toilet bowl. It's so gross. This nifty gadget stops me from having to clean daily and I love the fact that I don't have to scrub. Definitely recommend it


I used it recently for the first time and I am in love with it it cleaned stuff grains and grouts with just few scrubs I will definitely use it regularly and will suggest it to my friends


Scrubbing Bubbles Total Kitchen cleaner

13 reviews
Great product that works fast!


Scrubbing Bubbles Mildew Stain Remover

15 reviews
If you have any kind of mildew buildup this is the product to use. I spray and then let sit for about 10 mins. Then I take a brush and poof mildew is gone.


Scrubbing Bubbles One Step

1 review
This little gem sits on the rim of your toilet and has a foot step to spray . the stuff even gets under the rim. At under $4 a can it's worth every penny, not to have to use that nasty toilet brush. I would recommend this to everyone. If your mother is aging as mine is - It...


Scrubbing Bubbles Fresh Brush 2-in-1

15 reviews
Ce produit fait parti de ma vie depuis longtemps. Je lutilise plusieurs fois semaine.il nettoi en profondeur et ca sent tres bon apres l'avoir utilise.