1-4 of 4
SimplyProtein Reviews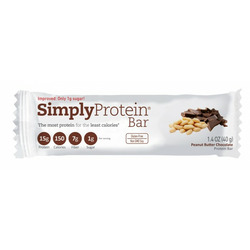 I was a bit disappointed with the taste of this protein bar, as to me personally, it did not taste much like chocolate, or peanut butter. When I first bit into it, I found this protein bar to taste bitter. Secondly, I did not really care for the crispiness either. I much prefer...


I have purchased SimplyProtein bars quite a few times and have tried many of the flavours. Today I just tried the double chocolate flavour and it's now my favourite! The bars have a high protein content, low sugar, and plant based ingredients. This flavour still somehow tastes...


simplyprotein kids bar

1 review
I tried it not sure if I will buy it for me, but my daughter really liked it, my son wouldn't try it. It is healthy and nutritious so I may buy it for my nephew and daughter but not right for me.


SimplyProtein Chips

3 reviews
This is a great product when you need a quick snack to hold you over until you eat a meal. They are tasty and have excellent nutritional value. I absolutely LOVE that they are so low in carbs as they allow me to have a tasty snack/treat without feeling guilty for eating a...