1-4 of 4
SimplyProtein Reviews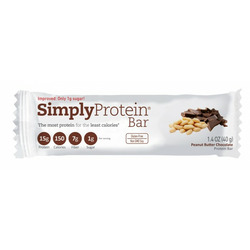 My husband and I eat protein bars several times a day. This is now my new favorite. It is light and soft to eat. Most protein bars and so chewy you cant bite them and your jaw hurts. Some are very heavy and I feel terrible after eating them. These are nothing like any other...


I have purchased SimplyProtein bars quite a few times and have tried many of the flavours. Today I just tried the double chocolate flavour and it's now my favourite! The bars have a high protein content, low sugar, and plant based ingredients. This flavour still somehow tastes...


simplyprotein kids bar

1 review
I tried it not sure if I will buy it for me, but my daughter really liked it, my son wouldn't try it. It is healthy and nutritious so I may buy it for my nephew and daughter but not right for me.


SimplyProtein Chips

3 reviews
This is a great product when you need a quick snack to hold you over until you eat a meal. They are tasty and have excellent nutritional value. I absolutely LOVE that they are so low in carbs as they allow me to have a tasty snack/treat without feeling guilty for eating a...