1-9 of 9
Baby Dove Reviews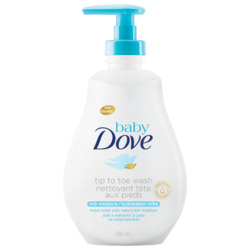 This is Perfect for a sensitive skin new baby and a dirty toddler. This has a nice, clean smell. There is not a strong smell afterwards except for smelling clean.


Baby Dove Rich Moisture Lotion

261 reviews
Very gentle on skin and keeps it hydrated in winter when the heat is high. Use immediately after bath and it stays the whole day. MAkes old eczesma scars disappear. Good for adults with very sensitive skin too.


Baby Dove Rich Moisture Shampoo

207 reviews
I have been using this product on my son's hair since he was a baby. It is great for sensitive skin and is moisturizing. The scent is very light and pleasant.


Started using this product after developing contact dermatitis on my hands. Immediately noticed a difference after washing my hands! It was not harsh at all and my hands didn't feel entirely dried out like before. It feels like a small film of moisture coated on my hands...


Baby Dove Sensitive Moisture Lotion

171 reviews
I absolutely love this product. I must've tried half a dozen baby lotions before using this one and once I did, it is the only one I will buy. It keeps my baby's sensitive skin so, so soft and doesn't irritate it at all. It's a winner.


Baby Dove Rich Moisture Baby Bar

173 reviews
Lorsque mes deux enfants sont nés (2018 et 2021) c est ce savon qu ils utilisent alors je m en suis procuré .bonne odeur, aucune irritation pour la peau donc très doux ! Je le recommande :)


Baby Dove Sensitive Moisture Wipes

165 reviews
These wipes are a lifesaver. I use them in between baths for my son. He is famous for his milk ring around his neck (even with bib or burp cloth), he also has his hands in his mouth at all times. These have a beautiful scent that isnt overwhelming but enough to take away that...


Daughter's skin is very sensitive but this works for her! And we love the smell too. I only wish it would be a little more cheaper for its size cause a momma's gotta save!!!


Baby Dove Night Time Lotion

48 reviews
This is just lovely after your baby/toddlers bath. A little goes a long way, everyone likes this on there skin in my family. Soft to touch and sinks I to theskkn lovely.