1-10 of 10
Baby Dove Reviews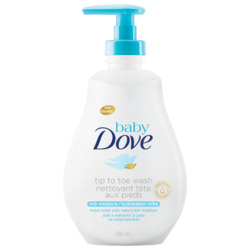 I buy Baby Dove Moisture Tip to Toe to use personally. I love the smell, and the way it moisturizes dry skin. I am an older person, and I have very dry skin, which this type of body wash is very gentle and soothing to my skin type.


Baby Dove Rich Moisture Lotion

245 reviews
This makes babies skin feel super soft and moisturizer. I still use it on my toddlers in the winter to prevent dry skin or to give them a calming massage. It smells great too!


Baby Dove Rich Moisture Shampoo

194 reviews
We have 3 children, our older two we used other brands of baby washes and when we had our recent baby we decided to give this a try, as it was a new product then, well, this shampoo is hands down amazing. Not only does it smell good but it creates a rich lather and baby's skin...


I have been using this on my babies for a while. I love how it's fragrance free! My kids have a sensitivity to certain smells, especially in body washes. I haven't had no problems with this. It leaves their skin soft and moisturized.


Baby Dove Sensitive Moisture Lotion

164 reviews
I love dove products, but the product I bought for my baby was horrible it didn't have any smell, and it made her feel so sticky after I put it on her, I thought with it being dove it would be wonderful to use and that was just opposite, I won't use dove for baby again.


Baby Dove Rich Moisture Baby Bar

168 reviews
I use this product on my children who are not toddlers or babies any more . Their 8-11 years old . It's so great on their sensitive skin from having eczema. It doesn't leave them feeling all dried out . Plus the smell is amazing compared to other soaps that are made for...


Baby Dove Sensitive Moisture Wipes

162 reviews
I use These wipes body soap and body lotion on my 2 month old. They smell good it doesn't leave a rash on my daughter. I was Worried at first to use them in her that she would break out in a rash, but she didn't. My husband and I use Dove soap so we wanted to get our...


Baby Dove Sensitive Moisture Bar

68 reviews
I have always bought baby dove bar for the last 20 years . I love the scent and how gentle it is however it's not the baby smell it use to be which I loved more . Bring back the older time baby scent! It was gentle too and fresh. I would even use them in a vase in my bathroom...


This is the only baby soap I have ever purchased that I have used every drop! This soap is great for little with sensitive skin. My son is so sensitive to soaps and lotions. This product not only does not irritate his skin but it leaves him smelling so good!!! One of my...


Baby Dove Night Time Lotion

46 reviews
It smells amazing, and is really creamy and thick! We use it every night at bath time and then get our story read and go to sleep. I even use it on me sometimes , it's just a relaxing scent and one of my favorite night time routines!