1-10 of 10
Baby Dove Reviews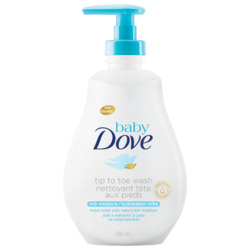 This lotion is great and very gentle on baby's skin I've used it on both my babies as newborns as as they've grown smells great and lasts a long time


Baby Dove Rich Moisture Lotion

256 reviews
the lotion I got in one of the presents for my newborn. initially, I avoided any lotion on my newborn's delicate skin but after a few days he started having heat rash, then I decide to apply this on his skin and it works great. the lotion is gentle and quickly absorbed by the...


Baby Dove Rich Moisture Shampoo

201 reviews
the dove shampoo I use every day on my baby and his hair maintains the soft, silky texture.i have no complaints of redness, irritability with these products.the pump packaging is easy to handle and I am impressed with the mild nature of the shampoo with light scent that does not...


J'adore ce savon pour ma fille et mon garçon qui ont la peau sensible et on besoin de produits non parfumés pour garder leur peau douce et bien hydratée!


Baby Dove Sensitive Moisture Lotion

167 reviews
Works well on sensitive skin. This is the lotion my dermatologist recommends. Thank you Dove, my baby can now wear long sleeve tops. Other lotions are too fragrant and irritate my babys skin but this fragrant free lotion is great it's light, not heavy and its not greasy.


Baby Dove Rich Moisture Baby Bar

170 reviews
Love this soap for my infant and toddler. It's gentle but still cleans great. Plus the bar lasts forever and is a fraction of the price. Never disappointed when I purchase this.


Baby Dove Sensitive Moisture Wipes

163 reviews
after the use of baby dove wash and lotion, I decided to use the wipes also and I love it. dove baby products never disappoint me. these works great for my baby's skin. I used the wipes and never had issues of redness, irritation for baby, the moisture content is great and...


Baby Dove Sensitive Moisture Bar

69 reviews
This soap is great for sensitive skin of all ages, This soap lathers you nicely, and it doesn't dry out skin and it's a great moisturizing soap. Great for those much needed self care moments.


My son who's a teen is allergic to all soaps...but not this one its awesome he uses it as a body wash with no issues whatsoever, this has great cleaning power, and is super gentle. This stuff is a must in our house! And smells great! Do recommend! Worth every penny!


Baby Dove Night Time Lotion

47 reviews
I absolutely love this baby dove night time lotion. All the "night time" scented lotions I've found have lavender in them, which I can't stand the smell of. This has a calming chamomile scent and it smells amazing! It keeps my baby's skin very soft and moisturized, along with a...