Facebook | breakfastessentials.ca
1-4 of 4
Carnation Breakfast Essentials Reviews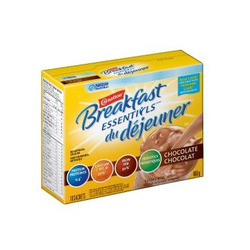 Absolutely my best friend when it comes to mornings! i hate waking up early and eating food first thing in the morning but usually get hungry after leaving the house, not only do I feel energized but I am full until off work usually. ONLY downfall: a bit pricey


I love caration breakfast. I just wish you could get the strawberry by it self. because if I want it I have to get the varity and I do not like the chocolate one. so I get stuck with just the vanilla one. sometimes I do not feel like it.


Carnation Breakfast Essentials

53 reviews
Fantastic quick on the go brrakfasy drink. Fills a hole until you get a minute to eat. And the price is better than boost or ensure. Nutritioal value is spot on where it should be for a on the go breakfast. Love it for picky eating as a vitamin boost or for my teen who wont eat...


Carnation Breakfast Anytime

15 reviews
I always keep this in my pantry. As a mom it's hard to keep up a healthy diet so this is a good boost. Plus it tastes great, my favoirite is chocolate bit they all taste good.