91-102 of 102
Hershey's Reviews
Hershey's Almonds & Toffee Drops

4 reviews
Ce que je trouve le plus dommage à propros de ce produit c'est de ne pas en trouver partout! C'est si délicieux, mais dans mon coin, je n'en trouve nul part ou presque. J'adore les petits croquants de caramel avec les amandes, c'est trop bon.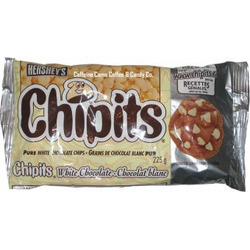 Chipits Pure White Chocolate Chips

3 reviews
My husband has a sweet-tooth for anything chocolate, white chocolate is no exception!! I bought these to add a nice new dynamic to the standard chocolate chip cookie and they were a hit. They are a perfect rich creamy chocolate chip that will now be added to every batch of...


My new favourite snack mix. I like all the Hershey mixes, but this one if by far the best, mainly because it doesnt contain any actual nuts, which i cant eat.


Hershey's Nuggets Extra Creamy Milk Chocolate with Toffee & Almonds; my favorite nugget from Hersheys, my favorite nugget flavour has to be the toffee and almonds. Beat dead on the perfect combination and amount of toffee and almonds within each nugget! Not sweet, not...


Hershey's Marshmallow Eggs

6 reviews
I didn't Care for these because they are just too sweet and a little sickening for a candy,not good in my opinion


Heath Bits 'o' Brickle Baking Pieces

2 reviews
Don't like the taste of Heath Bits. The taste is off for me. I much prefer the sweetness of Skor. I was disappointed when I tried these bits as I was expecting the same great taste as Skor. I did not purchase again.


Hershey's Drops

13 reviews
I like to have a glass small bowl filled with these whenever guests come to the house ready to serve especially guests with small children. Or a small snack when have a chocolate craving have a couple "of drops" of chocolate to enjoy., Good price, and great hershey flavour that...


Smore Kit from Hershey's

3 reviews
great for the family kids really loved it,


Hershey's Kisses Air Delight

1 review
A friend noticed that Hershey's kisses were my favourite little indulgence... so she brought me back from a business trip a bag of the new Air Delight Kisses.... Well... I am going to have to start having these brought back from the US everytime some goes Stateside. I am now...


Hershey's Kisses Cherry Cordial

7 reviews
I didn't like this flavor of Hershey Kiss. It was so sweet and overpowering on my taste buds. They ruined a great chocolate.


Hershey's Hugs

12 reviews
Even better than Hershey's Kisses! Smooth and creamy white chocolate with a very pretty chocolate swirl design on top. The chocolate centers are a fun touch. I will fight you for these!


Hershey's Symphony Chocolate Bar

1 review
This chocolate comes in a huge bar and it's really cheap, but it doesn't taste cheap. It is so good and really stands up to those cravings!