1-14 of 14
Scrubbing Bubbles Reviews
Scrubbing Bubbles Mega Shower Foamer

1134 reviews
I use this product to get at the scum in my shower. Not too much elbow grease required if you let it sit for a bit. And it smells really good too. No complaints


Scrubbing Bubbles Bathroom Cleaner

466 reviews
I have been using this product for many years. It always gets the job done quickly I will definitely be buying more of this and recommending it to family and friends.


Love subbing bubbles products! But this is my favourite to clean a shower/tub the foam makes the dirt easy to wipe away ! Use this all the time! Will repurchase for a long time!


I really like the neck of the bottle, it makes it easy to pour right around the toilet rim, I really feel the toilet gets a really good clean. Some of fragrances of the toilet duck are really pleasant and not over powering. Your toilet will sparkle and shine


Scrubbing Bubbles One Step

1 review
This little gem sits on the rim of your toilet and has a foot step to spray . the stuff even gets under the rim. At under $4 a can it's worth every penny, not to have to use that nasty toilet brush. I would recommend this to everyone. If your mother is aging as mine is - It...


As if scrubbing bubbles didn't make cleaning a lot less of a chore already, now they have a power spray so you can just clean faster and easier.... I was able to refill my bottle and reuse it again... great idea


My husband works in construction and whether he takes a bath or a shower, the grime left over afterwards always makes me gag a little. I would use other cleaners with a scouring pad and I would have to scrub for what seemed like forever. I hated it! Getting him to do it himself...


Scrubbing Bubbles Total Kitchen cleaner

13 reviews
Great product that works fast!


Scrubbing Bubbles Mildew Stain Remover

15 reviews
If you have any kind of mildew buildup this is the product to use. I spray and then let sit for about 10 mins. Then I take a brush and poof mildew is gone.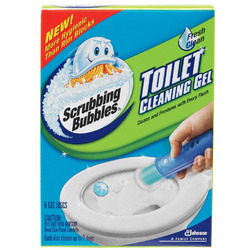 Scrubbing Bubbles Toilet Cleaning Gel Stamp

132 reviews
Depuis que j'ai acheté ce produit, les cernes roses causés par je ne sais trop quelle matière dans l'eau ont disparu. Je devais brosser l'intérieur de la toilette au moins à tous les 2 jours avant. En plus, l'odeur de fraîcheur que ce gel diffuse est géniale. J'adore.


Best cleaning product :) When I was looking for a product it took me forever until I find one that I really like. Tried different cleaning products until I found this one. I love it


I used it recently for the first time and I am in love with it it cleaned stuff grains and grouts with just few scrubs I will definitely use it regularly and will suggest it to my friends


Scrubbing Bubbles Fresh Brush 2-in-1

15 reviews
Ce produit fait parti de ma vie depuis longtemps. Je lutilise plusieurs fois semaine.il nettoi en profondeur et ca sent tres bon apres l'avoir utilise.


I purchased this because I HATE having to clean the toilet bowl. It's so gross. This nifty gadget stops me from having to clean daily and I love the fact that I don't have to scrub. Definitely recommend it