1-3 of 3
Stokke Reviews
There's a reason why these high chairs go FAST when posted on FB marketplace and other used baby gear pages. They're the best. It can be a little tricky to properly clean them ( you will have to disassemble half of the high chair to get the foot step and the seat step out and...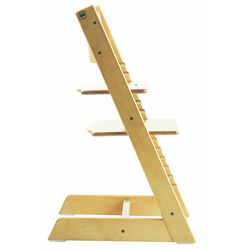 Stokke Tripp Trapp - Natural

1 review
This high chair is amazing! It's made from quality wood and it will grow with your child for years. You can easily adjust it and they'll be able to keep using it. It's easy to wipe off yo clean, too.


Tripp Trapp from Stokke Cherry

2 reviews
I have this chair set in Natural, and we love it for our 10 month old. The fact that it serves as a chair way past the baby stage is the reason we bought it. I find the tray is easy to wipe clean after every meal, and the fabric hasn't stained at all which was one of my...